We are excited to welcome our members back to the club on Thursday June 10th, 2021. Courts must be pre-booked by calling 780 460 2441 or email badminton@redwillow.ca. Masks are required except when playing.
To ensure the safety of members and staff, Red Willow is:
• Limiting clubhouse access to members only.
• Strictly controlling access times to minimize exposure.
• Screening staff and members at every visit.
• Enforcing physical distancing rules.
• Decreasing contact points.
• Increasing cleaning and sanitization procedures.
• Requiring completed COVID-19 Health & Compliance Declarations
before members can enter the club.
Thank you to everyone for their continuing support of the club.
We are anticipating opening on Thursday June 10th at 4pm, bearing any unknown bumps in the road.
We are in the process of up-dating our webpage. Please be patient.
Canadian Badminton Masters 2019, Quebec
2019 Yonex Canadian Masters Badminton Championships
This years Canadian Masters Tournament will run from April 28th to may 3rd, 2019 in Quebec City, Quebec.
Games are  being held in the Laval University. Club members Nancy Cyr, Barb Biggs, Anne Emberly, Wendy Jerome and Rosalynn Thompson all made the journey east to compete in the championships. We would like to wish them safe travels and good luck in the tournament.
Click here to follow the tournament results.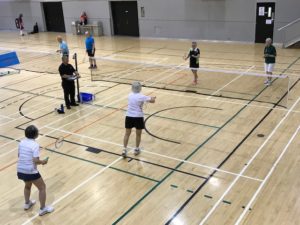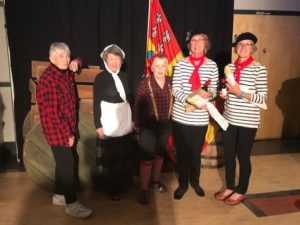 Anne Emberly, Wendy Jerome and Nancy Cyr playing doubles and our wonderful members dressed in a French theme for the evening entertainment.